CABE regional AGM
Michelle recently organised the Annual General Meeting for the Yorkshire and Humber Region on Thursday 25th January 2018. The meeting was held at The Clifton Park Museum in Rotherham.
It was confrmed at the meeting, which was attended by over 20 delegates, that Michelle and Tony Riley were to continue as regional Secreatry and Treasurer respectively. Basil Parylo, the region's Chairman handed over the role to John Loom. Basil will remain on the Committee as an active CPD Co-ordinator.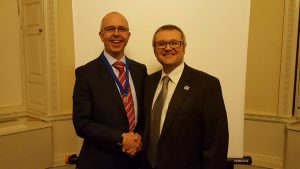 Immediately after the formal AGM Sarah Siyver from CABE HQ gave a presentation by the Association's President David Taylor who unfortunately was unable to attend in person.
The delegates were then provided with a CPD session presented by Simon Leeming of the Coal Authority, this gave an insight into who the Coal Authority are and the services which they provide. He disussed how they have arrived at where they are today and a range of examples of the work that they carry out across the UK. The presentation then looked forward at the new types of work they are undertaking and the opportunities that they see for the future.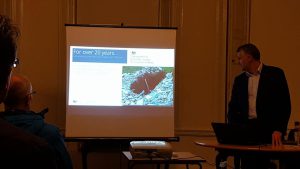 More about the Museum
The Clifton Park Museum is an exciting modern museum that takes you through Rotherham's rich history. The Museum highlights the history of the borough in a way that appeals to all ages and helps to bring both our lives, and those of our ancestors, into sharp focus.
Clifton House was built for Joshua and Susannah Walker in 1783 and has housed Rotherham Museum since 1893. It was designed by the Yorkshire architect John Carr, with additional work added at a later date by Rotherham architect John Platt. It is listed Grade II* due to the many original features still intact.
The Walker family lived here until 1861, when Henry Walker died. After his death the house was bought by William Owen who died 1881. In 1883 the house and grounds were put up for auction for redevelopment but failed to meet the reserve. In 1891 the house was sold to Rotherham Corporation for £23,000 for use as a Municipal Park. The park was opened by the Prince of Wales (Edward VIII) in 1891 with grand celebrations, with the Museum opening in 1893. Many of the early collections were made up of items donated and lent by local people. A significant number were also provided by local societies, such as finds from the Roman excavations of Templeborough in 1877 by Rotherham Literary and Scientific Society. The first Museum Curator was also the President of the Rotherham Naturalists Society.
Why not visit http://cliftonpark.org.uk/ for more details on the exhibitions and collections held at the Museum, and entry is completely free.
Michelle Tuxford
January 2018