Well, yesterday was a day of many parts.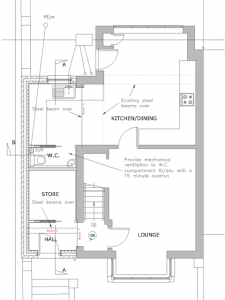 I spent some time providing design and content input for our new website with Mookat.
I designed a single storey side extension for a bungalow, dealt with Local Planning Authority and Building Regulation queries on a couple of other projects, and answered Client enquiries.
I made some serious headway into my application for membership of the Chartered Institute of Architectural Technologists, something I've been wanting to do since gaining my degree last summer (work has taken precedence, that and all the other projects I have been involved in these past 12 months). I have formerly held Associate membership of the Institute however I had to resign when I formed Taylor Tuxford Associates with Rhys and Anne, this coincided with the start of my degree course at Sheffield Hallam University so I decided to wait for my course to end before applying for full membership.
And then, after work, I edited a couple of backing tracks, updated our playing list and took myself and my trusty laptop off to rehearsals with my Blu Crew pals. The lovely people at Tesco in Rotherham very kindly allow us use of their Community Space in Store. They are holding events in store over the coming weeks to celebrate the Rio Olympics and so we are going to be in store on Saturday 13th August 2016 for a couple of hours between 10.30am and 12.30pm, to support their event and to encourage shoppers to get into the spirit of the Olympics whilst raising money for the British Heart Foundation and Diabetes UK.
After rehearsals finished at 9pm I safely delivered our equipment back to its current home; we really do need to find some form of secure storage for our equipment….can anyone out these help? Blu crew are a not for profit group and so costs need to be kept to an absolute minimum. There must be an empty garage out there that we could rent from you? Or perhaps one of the Storage Companies could help? We'd love to hear from you if you can.