These surveys, known as Property Conditions, are most commonly required before entering into a formal lease of a business premise. Generally, a Condition Survey is quite detailed and will identify any visual defects that exist at the property at the date of the survey, which is usually undertaken prior to commencement of the lease or possibly prior to commencing works to an adjacent property.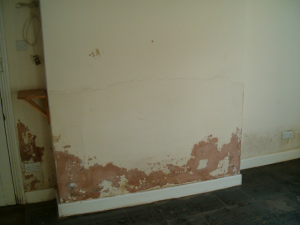 The benefit of this is that if you are entering into a repairing lease (that is to say an agreement where you undertake to hand the property over at the end of the lease period in a condition no worse than when you took possession) it is comparatively easy to identify all defects that were visibly present at the commencement date, thus it is possible that these may be excluded from a final settlement for repairs at the termination of the lease.
We strongly recommend that you discuss the need for a Condition Survey with your legal advisers prior to signing up to any property lease.
Where works are proposed to an adjacent property (possibly under the provisions of the Party Wall etc Act 1996) it may be advisable to carry out a condition survey to determine the presence of any pre-existing defects, in order that any potential damage resulting from the building works may be more easily identified before the works commence and if appropriate, protective measures put in place to reduce the risk of further damage from occurring.
Call us on 01709-730-780 or email us with any queries to see how we can help you with your next building related project.